ChainGuardians Announce Referral Competition
5 July 2019
by chainguardians

Following the announcement of our collaboration with Colletrix and Opensea; as well as [announcing the start date for our presales],(https://steemit.com/crypto/@chainguardians/chainguardians-announce-first-stage-of-nft-presales) the #ChainGuardians team are pleased to announce the commencement of our referral competition!
Competition participants have the chance to win one of ten Limited Edition NFTs representing an Uncommon Edition of the ChainGuardians character #Captain Devex Attazer; with the equivalent value of 0.35ETH each. Meanwhile, the top referrer will receive a Rare Edition of the 'The Captain': otherwise only available through individual auction on OpenSea.
'The Captain', created and designed by our in-house artist, whose portfolio includes working for DC Comics, sets a new standard for stylish and slick art design; whilst boasting unique attributes that will be deployed as part of the ChainGuardians blockchain game.Uncommon Edition Captain Devex Attazer (left) and Rare Edition Captain Devex Attazer (right)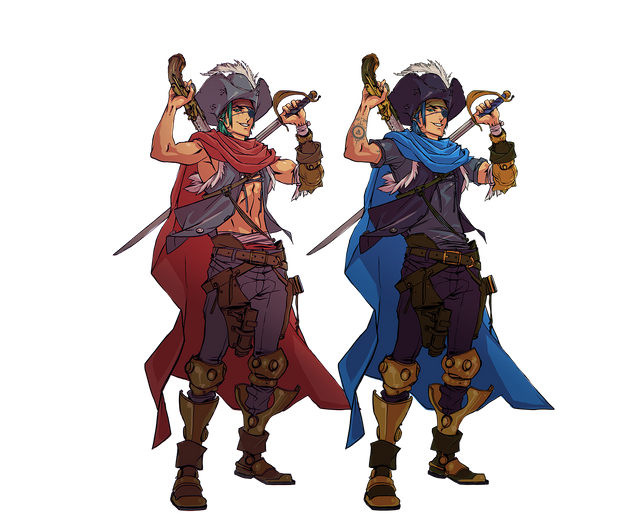 In order to participate in the competition, users should complete the following actions:
Ensure you join Discord using the Discord ID you have entered into the whitelisting information
Follow us on Twitter
Re-Tweet the following Tweet using the Twitter ID you have inserted into the whitelisting form
Ensure you input your correct email address so that your referral link can be sent out to you
Start referring users using your unique referral ID!
As part of the whitelisting process ChainGuardians utilise the SafeName system which conducts publicly available chain analysis; in order to check the integrity of accounts and protect against bots and fake users.
Once you have completed the whitelisting form, ensuring you have accurately completed all the required fields; you will receive an email via the email address you have provided (usually within 24-48 hours), with your unique referral link. You will then be able to start referring others and view your referral count increasing on your referral page.
The top referral count will be established following the end of The Captain presale phase and prizes will be issued accordingly to the lucky winners. However, it is noteworthy that the users can continue to refer others beyond this round of prizes as there are further prizes to be won leading up to the ChainGuardians crate sales!
Please note it is essential that your Re-Tweet and Discord ID match those which you have provided on the whitelist form; otherwise prizes may be re-allocated at the ChainGuardians' teams discretion.
Happy referring and good luck!
The ChainGuardians Team.